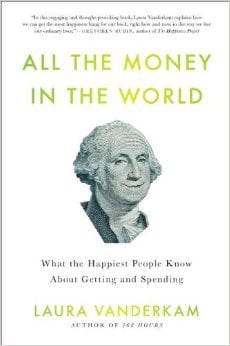 I've only just started All the Money in the World: What the Happiest People Know About Getting and Spending, but already it's terrific. I think far too much about money. I worry about the little purchases, alternately scrimping and binging on small things, all of which pale in comparison to those big/boring expenses which seem unavoidable. Sound familiar?
Well, I only finished Chapter One so far, so I don't have a solution for you yet, but I love the approach Laura Vanderkam is taking. Money is fungible, moreso than anything else. We have almost infinite options for what we can do with it, so, um, what should we do? Time for some decision making.
What would you do with $10,000?
Chapter one asks us what we'd do with $10,000. Well, actually she grants us $50,000 so that we can put $40,000 into our retirement funds/debts and feel like we're not being irresponsible when we consider what to do with the remaing ten.
So what should we do? Well, she has some fabulous examples which demonstrate just how much breadth is possible. Her "Commission a major choral work from an up and coming composer" example particularly stood out to me. Ten thousand dollars really is a lot, you can really change something. Or you can make one, small but meaningful tweak to every day of your life?
That would be quite a Happy Birthday Opus
Of course with great possibilities comes great decisions and that means prioritization. Hike through Mongolia? Endow a poetry award? Get a massage every week? What would you decide? And not incidentally, what would your partner choose?
Keepign quite about your dreams is no way to find happiness, sometimes you need to Rock the Boat. There's no better way to find out than to ask your partner, so I put together a sample ForceRank with the options listed in Chapter One. Click below to rank your choices and then you can share it with your partner to see what they would choose.