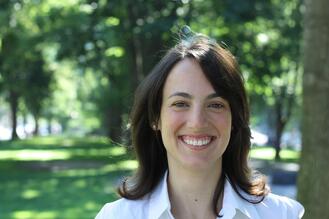 Bio:
Currently VP Product at
Hopper
, trying mightily to build the world's coolest travel app. Prior to that, spent 6 life-changing years building Carbonite from a scrappy startup into a public company after 4 forgettable years in consulting. Computer Science undergrad at Dartmouth College. Crazy marathon runner. Yogini. Occasional road biker. Singer. Vegetarian foodie.
Native Cape Coddah.
If you ranked the companies priorities in order and your reports ranked theirs, how closely do you think they would they match?
Probably not perfectly, but pretty darn close. We're a small team, so we synch up regularly via daily standups, weekly team meetings where we discuss our priorities and weekly demos where we show off and celebrate the progress of the week. People have lots of opportunities to ask questions and make suggestions. When everyone understands the weekly goals as well as the higher-level company goals, it's easier for employees at all levels to make good decisions day-to-day about where to spend their time.
How do you pick what project to do next? Do you use any formal methodology?
We don't use a formal methodology to prioritize projects; prioritization is an outcome of constantly monitoring our operational data and having frequent conversations with the CEO and CTO about what we're trying to learn or accomplish. Admittedly, this works pretty well in a startup our size but gets more difficult as the number of people involved increases.
What does the word "consensus" mean to you?
Done well, consensus means that everyone involved in a decision has the same understanding of the overarching goals and therefore reaches a similar conclusion about what needs to be done given the available evidence. Done poorly, consensus means getting people with very different agendas and spotty context to agree on the safest or least-offensive option -- which will almost certainly result in failure.
After you've laid out the vision, how do you know that the troops are behind you?
The nice thing about our culture at Hopper is that our decisions are governed by evidence, so there is transparency into how and why decisions are made. Everyone is encouraged to ask questions and voice concerns, and every suggestion is evaluated based on the validity of the argument for it, not by the rank of the person making it. We are constantly adjusting our trajectory based on data, which can be a little tumultuous, but everyone buys in to the fundamental idea that we will build the best product by objectively testing, measuring and iterating.
There are lots of behavioral types, which ones do you find the most challenging to work with?
Political types and arrogant people are the most difficult to work with. Getting the right stuff done means leaving your ego and your personal agenda at the door and committing yourself to finding the right solution -- whether or not it was your idea -- and really listening to qualitative and quantitative customer feedback -- whether or not you like what it's telling you. Political behavior diverts energy away from solving the right problems and arrogance blinds you to problems that are observable through objective analysis.
Thanks Jess. I just saw a quote of the day on a whiteboard in my office "There is nothing that cannot be achieved as long as it doesn't matter who gets the credit." I think your aversion to political types is right on. Thanks again for taking the time to give us your thoughts.